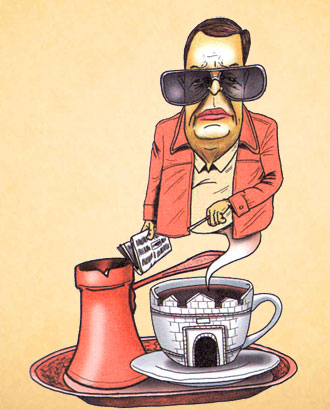 Lieutenant Colonel Svetozar Hadzic, the commander of the Kragujevac Brigade, after his victory at Vucje dol, near the village of Suvi Dol, transferred his brigade to Mark's Kale, to prepare himself with other Serbian forces to attack the mountain ranges.
According to the report of Lieutenant Colonel Hadzic about the battle in Gorizia on December 28, 1877, the attack began "about 10 hours, since there were no white flags in Nis", that is, since the Turks did not lecture, although it was expected. "Two battalions of the Smederevo brigade on the left wing, four battalions of the Kragujevac Brigade in the center and right wing took part in the attack, and about 5 hours the Gazi Batal Battalion of the Kragujevac Brigade and II Gružan Rudnik Brigade arrived."
Lieutenant-Colonel Hadzic does not speak about the battle itself, but points out that his brigade was in the position of "Mark's kale against the mountain spies that they took".
Lieutenant-Colonel Hadžić said that from December 24th to 28th he had 12 dead and 109 wounded soldiers, that the ammunition consumption for the aforementioned four days amounted to 102,300 bullets and that the list of soldiers proposed for the award was delivered to the Commander of the II Division https://tbimauritius.com.
Regarding the date stated in the 1877-1878 documentation. It is necessary to know that the dates were written down on the old calendar, so the record of December 29 is actually today, according to the new calendar, the date of January 11, the day when the liberation of Nis from the Turks is marked.